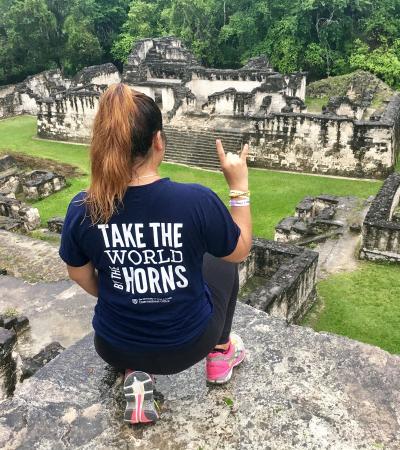 With a focus on travel and hands-on experiences, this May Term Abroad program offers an interdisciplinary overview of the heritage of Central America through Maya and Colonial history in Guatemala and Belize.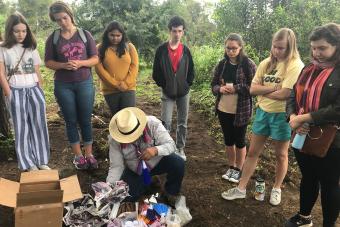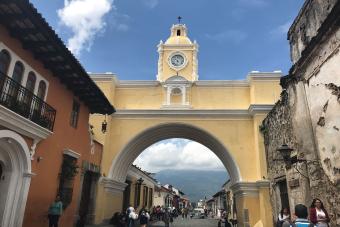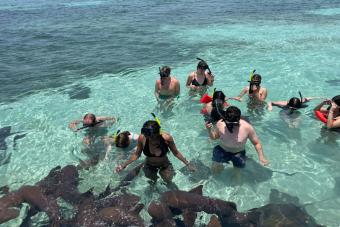 The program begins at Casa Herrera, UT Austin's educational and research facility in the UNESCO World Heritage city of Antigua, Guatemala where students will be matched with local family stays, and ends in the Caribbean coast of Belize. Coursework relies on research projects based on direct observation of archaeological sites, museums, villages, cooperative businesses, natural reserves and protected ecosystems, experienced through the extensive travel components of the program.

Dates
Program Dates
May 13 – June 6, 2024
Application Deadline
November 1, 2023

Program Faculty and Coursework
Maya Art and Architecture
ARH 347M / LAS 327 / ANT 324L / GRG 356T
(VAPA / GC flag / II flag / Sustainability Studies capstone)
This course is an introduction to the artistic traditions of the ancient Maya, tracing their development up to the time of European contact, the Spanish Colonial period, and the contemporary culture of ethnic Maya descendants in Guatemala and Belize. Students will examine various important themes of Maya culture including history, ritual, and cosmology as revealed in sculpture, hieroglyphs, painting, and architectural design. Maya civilization emerged over 3,000 years ago and soon developed into one of the great civilizations of the ancient world, well known for its impressive ruins, temple pyramids and palaces, stone sculptures, and elaborate hieroglyphic writing system. The city- states of El Mirador, Tikal, Calakmul, Palenque and Copan (among a great many others), were among the most powerful political and cultural centers of their time. The Maya experienced profound changes and disruptions throughout their history and development, including the so-called "collapse" of many cities around 800-900 CE. The arrival of the Spanish in the sixteenth century and of the British in the 18th century then brought near destruction to their world, but Maya peoples emerged resilient in the wake of conquest in what are now the modern nations of Mexico, Guatemala, Belize, Honduras, and El Salvador. Today six million strong, the modern Maya continue to express their cultural identity in the art and politics of modern Mexico and Central America.
This class offers an interdisciplinary overview of Maya civilization and culture, spanning thousands of years and encompassing the latest research from archaeology, history, linguistics, and anthropology. We will highlight a number of new and exciting discoveries that are changing earlier ideas about the Maya past, overturning long-standing theories about their supposed rise and fall. We will also examine how Maya people of more recent times still adapt to a changing global setting. Throughout our class we will use the Maya as a case study for several "big picture" themes or issues that are key for the study of ancient human cultures:
Factors in the origin and development of ancient cities and states
The importance and persistence of religion and worldview
Roles of art and literacy in human communication
Understanding the "collapse" and resilience of societies and civilizations
Appreciating the multicultural components of modern Latin American countries with deep and complex historical trajectories
 
Learn More at an Info Session