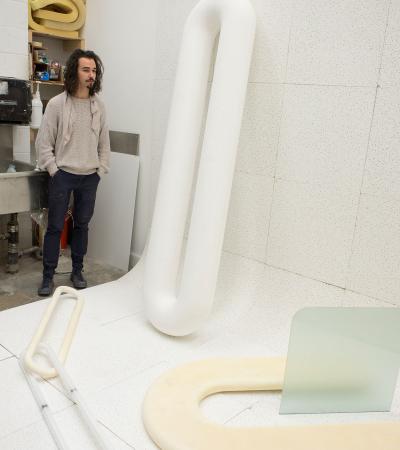 What You Submit
ApplyTexas Application
Application Fees ($75 total for U.S. and Permanent Resident applicants; $100 total for International applicants)
Official Transcript(s)
3 Letters of Recommendation (submitted electronically by references)
TOEFL or IELTS Language Test Score (international applicants only)
Portfolio of Visual Work (see Portfolio Requirements)
Statement of Purpose
Resume
A GRE score is not required

Dates and Deadlines — Fall 2024 Admissions
NOTE
The program admits students for fall semester only, and deferred admission is not allowed.
 
Date
Be Aware!
September 1, 2023

Application opens for Fall 2024 admissions

December 15

Recommended completion of ApplyTexas application

While the official deadline is January 10, we highly recommend you complete the ApplyTexas application by December 15. Here's why: Each of the people writing one of your Letters of Recommendation will receive a secure link for submitting that letter at the email address you provide with their name in your ApplyTexas application. Those emails with secure links will not be sent until you complete and submit the application. Since their recommendation letters must be received by January 10, we advise that you complete the ApplyTexas application by at least December 15 so they'll receive the link for submitting the letters well in advance of the deadline.

January 10 — 11:59 PM

Final application deadline (all materials due)

Late applications will not be accepted (no exceptions)

Mid-February

Finalists will be contacted for remote interviews

Early-to-Mid March

Applicants notified of admission decisions

Before You Begin
All applications for graduate admission to The University of Texas at Austin are processed by the Graduate School.

Application Process
Step 1 — Complete Application and Pay Fee
Recommended deadline: December 15 (see note above)

Begin the process by completing an application for graduate admission at ApplyTexas.org and paying the application fee ($65 for U.S. and Permanent Resident applicants; $90 for International applicants).
In the Educational Background section, specify your primary Area of Concentration from the list of five below. If your work encompasses more than one medium regularly, you may optionally specify one additional area in SlideRoom (see Step 3).

Painting & Drawing
Photography & Media
Print
Sculpture & Extended Media
Transmedia (video, digital, performance)

In the References section, list the name and email address of each of the three people writing your Letters of Recommendation. After your application is submitted, each will be sent an email containing a secure link for submitting their letter electronically.

In the Essay/Statement section, simply write: Statement submitted through SlideRoom.

NOTE
Within 48 hours of submitting your paid application, you will receive an email containing your UT EID (university electronic identification), which you will use throughout your association with the university and in subsequent steps of the application process.
Step 2 — Submit Transcripts, Letters of Recommendation, and Language Test Score

Transcript(s)
Applicants must submit an official transcript from all undergraduate and graduate institutions you've attended, with the exceptions of community or junior colleges that offer no coursework beyond the sophomore year. Review the Graduate School's requirements and instructions for submitting transcripts.

Letters of Recommendation
After you've submitted your ApplyTexas application and paid the fee, each of the three people you listed in the References section will be sent an email containing a secure link for submitting their Letter of Recommendation electronically. All letters must be submitted electronically and must be received by the final application deadline.

Language Test Score (international applicants only)
A TOEFL or IELTS language test score is required of all international applicants not otherwise exempt. Reports are to be submitted directly to the Graduate School. Learn more about the Language Test requirement.
Please note that the minimum scores for admission to the graduate Studio Art program exceed those for admission to the Graduate School:
TOEFL: 577 (paper test), 233 (computer-based test) or 90 (internet-based test)
IELTS: Overall band score of 6.5

GRE Score
A GRE score is not required for admission to the graduate Studio Art program.
Step 3 — Submit Portfolio and Supporting Materials

Portfolio
Your portfolio should be your best, most recent work and reflect a committed, coherent body of work. Review the Portfolio Requirements tab at the top of this page for more information.
Your portfolio and supporting materials are submitted through SlideRoom, according to the instructions below. Do not submit these materials to the Graduate School or send them directly to the Department of Art and Art History.
Please note that SlideRoom servers can be slow on the deadline day. Early submission is recommended. If you need assistance with SlideRoom, review their Support section.
 
Name
Use the same full name that you entered on your ApplyTexas application.
 
Area(s) of Concentration
Our program works across media and disciplines. However, our admissions, space allocation, and other resources are based on traditional break-downs of media. If you have one primary area of concentration, select it. If your work encompasses more than one medium regularly, and the portfolio materials submitted support experience in that area, you may select one additional area. (Do not check more than two areas total.) Applicants will not be penalized for not providing an additional area of interest.
Please note that if you select an additional area, you consent to possibly being reviewed, admitted, and housed in that area.
If you're uncertain as to which area is most appropriate for you, contact the Graduate Advisor.
 
UT EID
Your UT EID (university electronic identification) will be emailed to you within 48 hours after you submit your ApplyTexas application.
Please note that your UT EID (a combination of letters and numbers) is not your application number (numbers only).
 
Current and Previous Degrees and Institutions
List the degree(s) you currently hold or will receive between now and the semester for which you are applying for admission, the institution, and the year (e.g. BFA, Gilligan's Island University, 2022).
Please do not list institutions from which you did not receive a degree (summer school, post-baccalaureate certificates, etc); include those details on your resume.
 
Website(s)
If there are any websites that show your work, please list them.
 
List of Recommenders
Please list the names and titles of the three people writing Letters of Recommendation that you submitted in your ApplyTexas application (e.g. Lovey Howell, Associate Professor, Gilligan's Island University).
 
Statement of Purpose
Please tell us a bit about yourself, your artwork, and why you are applying to the UT MFA Studio program. Please do not exceed 500 words.
 
Resume
Your resume should include your current address, phone(s), email, education (in addition to college/degree), awards, exhibitions and work experience. A website link is optional.
 
Transaction Fee
SlideRoom charges a $10 transaction fee, payable by credit card before submitting your application.
 
Step 4 — Confirm Receipt of all Application Materials

Use the university's MyStatus website to monitor your application. It's your responsibility to confirm that all materials have been received and the application is complete by the deadline. Late submissions will not be accepted (no exceptions).

Use MyStatus to:
See which application materials have been submitted and which are still required.
Review the status of your recommendation letters, resend recommendation requests, or add recommenders.
Upload transcripts as PDFs (if institutions can't submit them electronically).
See your admission status after a decision has been made.

Be aware:
Disregard the notice in MyStatus that your statement in ApplyTexas is needed. Only your Statement of Purpose submitted through SlideRoom will be reviewed. Do not mail a hardcopy of your statement to any university office.
After submitting materials through SlideRoom, there will be a 3–5 day lag before those materials appear as "Received" in MyStatus. Please do not contact the department to confirm receipt of materials.
Step 5 — Interviews with Finalists
Finalists in each area will be interviewed via Zoom at some point by mid-February. The department will initiate contact with finalists. Please do not contact the department to request an interview.
Step 6 — After the Decision

Please visit the Graduate School's After the Decision page for further information about admission, admission with conditions, and denials. Admissions to graduate programs at UT Austin are overseen by an Admissions Committee within the program. These committees are composed of experienced faculty members who are best-suited to determine the individuals who best meet program standards.
Unfortunately, when there are more qualified applicants than can adequately be instructed by the faculty or accommodated in the facilities, the Admissions Committee for the proposed area may deny admission to many applicants. Admissions recommendations to the Graduate Dean are final; there is no appeal process. We are not able to provide individual feedback to denied applicants.


Your portfolio should be your best, most recent work and reflect an informed knowledge of contemporary art and a committed, coherent body of work.

Ordering & Labeling
Images and videos can be labeled and ordered after they are uploaded. Arrange images in reverse chronological order, newest to oldest. Work cannot be more than two years old. Each piece must be labeled with title, date, media, and dimensions.

File Specs
File Types
All file types are accepted. We prefer the following: jpg, jpeg, png, gif (non-animated), tif, tiff, flv, mov, mp4, m4v, wmv, mpg, mpeg, mp3, wma, pdf
Max File Size
5MB (images)
250MB (videos)
30MB (sound)
Please note all files are viewed on computer screens.

What to Submit
2D & 3D Applicants
(Painting & Drawing, Photography & Media, Print, and Sculpture & Extended Media)
Time-Based & Interactive Applicants
(Transmedia)
7–10 works represented by up to 20 files (image and/or video). Within the 20 files, include excerpts of 5 works that are each 3-4 minutes. Optionally, full-length versions of the same 5 works may be submitted by the following means:

Link to videos posted online (insert URL in the image labeling area)
Applicants Working in Other Media
(Web, Interactive, Software, etc.)
Up to 20 files and/or 5 links to documentation that best represents each work