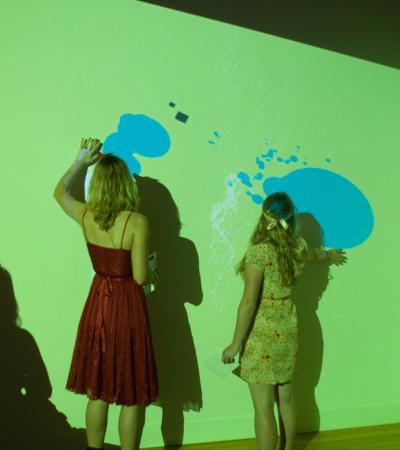 The courses below fulfill the Visual and Performing Arts (VAPA) requirement of the undergraduate Core Curriculum.
Details below are subject to change. Please confirm all information in the official Course Schedule.
 
Spring 2024 Courses
 
ARH 301
Introduction to the Visual Arts
Dr. Moyosore Okediji
MW 9–10:30
Fulfills →  VAPA / Global Cultures flag
Instruction Mode →  Internet
This course is an introduction to the appreciation, analysis, making and enjoyment of the visual arts. Students will investigate the lives and works of several artists who have made substantial contributions to the definition, history and interpretation of the visual arts. Students will develop skills in visual literacy and the ability to confidently discuss art objects from several cultures and in many mediums. The practicum aspect enables students to experience art as a process of thinking, making, and working with others.
 
---

Dr. Douglas Cushing
TTH 1–2 + Discussion Section
Fulfills →  VAPA / Global Cultures flag
ARH 302
Survey of Ancient through Medieval Art
Dr. Penelope Davies
MW 9–10 + Discussion Section
Fulfills →  VAPA / Global Cultures flag
This course examines the interrelationship of art and political and social power in diverse cultures around the world, from prehistoric times to ca. 1400 CE. Lectures cover cave-paintings and megalithic architecture of the prehistoric era, and the ancient cultures of the Near East, with their ziggurats and early visual narratives; China, famed for its ritual bronze vessels, the Great Wall and terracotta soldiers; early Buddhist art and architecture of Japan; India, with its Buddhist Stupas and Hindu temples; the pyramids of Egypt; early African architecture and sculptures in bronze and terracotta; and the classical ages of Greece and Rome. The course ends by assessing Byzantine iconoclasm, the spread of Islamic mosque and palace architecture, and the construction of vast cathedrals in medieval Europe. Discussion sections focus on selected art historical issues related to the lectures.
 
---

Instructor TBA
TTH 5–6:30
Fulfills →  VAPA / Global Cultures flag
ARH 303
Survey of Renaissance through Modern Art
Dr. Ann Johns
MW 11–12 + Discussion Section
Fulfills →  VAPA / Global Cultures flag
As a class, we will explore an extraordinary array of art and architecture from across the globe, including art of Europe, the Americas, Africa, Asia, and the Pacific Cultures. Our course begins c. 1300, in the late Global Middle Ages, and concludes with international artistic trends of the early 21st century. While we will concentrate on the familiar media of painting, sculpture, and architecture, we will also be looking at drawings, prints, photography, the decorative arts, garden planning, ceramics, textiles, interior design, earthworks, installation art, and digital media.
One of the great advantages of studying art history at UT is the outstanding collection of art at UT's Blanton Museum, Harry Ransom Center, and other collections across Campus. In addition to weekly classes and readings, you will have the opportunity in small, TA-led sections, to familiarize yourselves with these important collections of art, through group discussions and assignments.
Tests will be administered through Canvas; we will also have in-class pop quizzes. There will be no final exam.
Grade Distribution:
Three on-line (Canvas) non-cumulative tests: 15% test I; 20% test II; 25% test III (60%)
TA-led sections: 25% (attendance, short responses assignments, participation)
In-class group pop quizzes: 15%
 
---

Instructor TBA
TTH 5–6:30
Fulfills →  VAPA / Global Cultures flag
ARH 327N
Art and Politics in Imperial Rome
Dr. Penelope Davies
MW 11:30–1
Fulfills →  VAPA / Global Cultures flag
This survey of the public art of the city of Rome begins with Augustus' accession to power (27 BCE) and ends in the late antique period in the early fourth century CE. Lectures are concerned with state or imperial works of architecture and sculpture, assessed within their cultural, political and topographical contexts as vehicles for propaganda, commissioned and designed by the political elite, often as a means of retaining power and suppressing dissent. Politics and power changed the face of Rome through these monuments, which in turn provided sculptural, architectural and urbanistic models that influenced western cultures for centuries to come.
ARH 327R
Art in the Lives of Ordinary Romans
Dr. John Clarke
MWF 12–1
Fulfills →  VAPA / Global Cultures flag
This course examines how study of visual representations allows us to enter into the mentality of ancient non-elite Romans. We will survey the art and architecture of Roman Italy between 100 B.C. and A.D. 315 to explore non-elite attitudes toward the practices of daily life: religion, work, theater, gladiatorial games, tavern-going, banqueting, sexuality, self-representation, death, and burial. In this way, we will learn how the Romans were—and were not—"just like us."
ARH 329T
Art in the Age of Dante and Giotto
Dr. Ann Johns
MW 1:30–3
Fulfills →  VAPA / Global Cultures flag
In this course, we focus on the rich artistic and architectural history of late medieval Italy (1200-1350), an era closely associated with the great poet Dante and the artistic achievements of the age's most famous artist, Giotto. Geographically, we explore the art of late medieval Rome, Pisa, Assisi, Siena, Florence, and the imperial court of Frederick II in southern Italy. Artistically, we examine the work of artists as diverse as Arnolfo di Cambio, Giovanni Pisano, Pietro Cavallini, and the prodigiously talented Lorenzetti brothers, as well as the anonymous creators of frescoes at sites as varied as Assisi, Palermo, and Sant'Angelo in Formis.
Through lectures, discussions, and group work, we learn that the art of the era is inextricably linked to the tumult of this pivotal moment in Italian history, much of which is chronicled in Dante's encyclopedic account. While we as a class focus on the extraordinary artistic output of the later middle ages in Italy, the continuing battles between church and state, the rise of the wealthy bourgeois merchants, and the devastating plague of 1348 ensures that we also delve into social, economic, and cultural issues of the era, punctuated by weekly readings (in English) from Dante.
ARH 347K
Art and Archaeology of Ancient Peru
Dr. Astrid Runggaldier
TTH 11–12:30
Fulfills →  VAPA / Global Cultures flag
This course provides an overview of the cultures that occupied the Andean coast and highlands prior to and in contact with the Spaniards who occupied the area in the 16th century. Given the lack of written historical documentation prior to the Spanish arrival, investigations of the ancient Andean visual arts—the elaborate textiles, fine ceramic vessels, carved stone sculptures, and monumental architecture—have advanced through multidisciplinary approaches. Students examine various culture groups by engaging both the iconography and archaeology of the regional traditions, focusing primarily on the Nasca, Moche, and Chimu cultures, as these are featured prominently in the UT Art and Art History Collection (AAHC). In this course, we address pertinent environmental and ecological factors, evidence of ritual practices, such as human sacrifice and water management, techniques and materials of manufacture of art and architecture, and issues in looting and collecting antiquities, as well as preserving and presenting collections. Additionally, you will work with primary sources: the ceramic objects in the AAHC provide the basis for written assignments and digital humanities projects focused on these artworks. To that end, your coursework includes group-work and collaborative projects in digital curation to enhance online exhibits for a virtual museum project as well as a hands-on component to create a paired exhibit in the Fine Arts Library.
ARH 347L
Mesoamerican Art and Culture
Dr. Julia Guernsey
TTH 12:30–2
Fulfills →  VAPA / Global Cultures flag
This course surveys the art, architecture, and material culture of a number of the ancient civilizations of Precolumbian Mesoamerica that flourished in what are now the modern countries of Mexico, Guatemala, Belize, and Honduras. The course spans the time of the Olmec through that of the Aztecs, or from the 2nd millennium BC through the arrival of the Spanish in 1519. The goal of this course is to provide students with a general knowledge of the history, ritual traditions, and belief systems of ancient Mesoamericans, as expressed through sculpture, painting, architecture, archaeological remains, and ancient writing systems.
ARH 347N
Aztec Art and Civilization
Dr. David Stuart
TTH 9:30–11
Fulfills →  VAPA / Global Cultures flag
This class explores the art and visual culture of Aztec (Mexica) civilization, focusing on sculptures, paintings, and architectural monuments from the fourteenth century into the early colonial period of the sixteenth century. Students will learn how to look at art and architecture through the systems of iconography and hieroglyphic writing, interpreting their historical, linguistic, and mythological contexts. The art and the methods we use to interpret it provide important windows into larger issues of Aztec history, politics, ideology, and social structure.